Looking for ways to help your neighbors and celebrate the season of giving this year? Get involved with Meals on Wheels of Wake County! There are so many ways that you can support our neighbors in need- below is a list of ways that we could use your help this holiday season. Together we can make the holidays brighter for our elderly community!
Everyone deserves full, festive plates during the holiday season. If you're not sure what to put on your Christmas list this year, requesting that a gift made in your honor to Meals on Wheels is a wonderful way to give back to your community this holiday season. Instead of having the typical office/group gift exchange, take up a collection for a donation to Meals on Wheels of Wake County, and send it in honor of the group. We will acknowledge honorary gifts made this holiday season in our spring newsletter! Your generous donation will ensure that the over 1,400 seniors we currently serve will receive a warm, nutritious meal delivered by a friendly face. 
Not sure what to gift for the holidays?  Well, forget the fruit cake! Purchasing holiday cards from Meals on Wheels of Wake County will give meals to seniors in need in honor of your business associates, friends, or loved ones. For a gift of $20 per holiday card you can let Meals on Wheels take care of your holiday list. Your recipients will receive a holiday card informing them that a gift was made from you to Meals on Wheels in their honor.
We'll send you holiday cards to mail and personalize yourself, or, send us your holiday card mailing list and we'll do the mailing for you!
On December 13, 2023 all of our Friendship Cafes will host a holiday party.  A sponsorship of $500 will underwrite the costs of the meals served that day. Your group will be invited to attend the party and spread holiday cheer. If you can do more, collect items for gift bags for the clients at the Friendship Cafe using our Amazon Wishlist!
Email marykate@wakemow.org for information about sponsorship.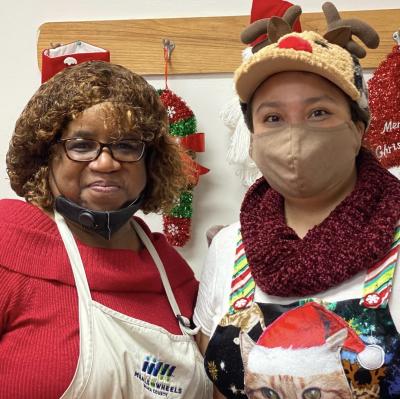 Volunteers can be the only contact that recipients have during the day, and provide an important safety check to help ensure our neighbors' well-being. They are the eyes and ears of Meals on Wheels and can help us extend our outreach beyond mealtime needs. We have a variety of volunteer opportunities to choose from for both groups and individuals.  Deliver both meals and holiday cheer! 
You can be Santa for seniors this holiday season! We are collecting holiday gifts to distribute to our clients during the season of giving. You can purchase gifts using our Amazon Wishlist , or donate new and gender neutral:
Gloves
Winter hats
Scarves
Throw blankets
2024 wall calendars
The deadline for gifts to be delivered to our main office at 1001 Blair Drive, Raleigh is December 1st!